Batman v. Superman: Dawn Of Justice SWATs – Soft Weapons And Tactics Plush Weapons from @FactoryEnt
Batman v. Superman: Dawn Of Justice SWATs™ – Soft Weapons And Tactics Plush Weapons
Concord, CA
– Factory Entertainment, Inc.
, the Concord, California-based producer of licensed toys and collectibles is pleased to announce its brand new line of proprietary role-play weapons called SWAT™: Soft Weapons and Tactics from Batman v. Superman: Dawn Of Justice!
SWAT™ captures the fun of thematically stylized fantasy weapons, but executed in soft, safe for work and play materials, with sounds specifically tailored to each piece and is intended for ages 8+.
The initial arsenal consists of the following Batman V. Superman weapons:
• Batman SWAT™ Batarang
• Wonder Woman SWAT™ Sword – 30 Inches Long!
• Wonder Woman SWAT™ Shield – 18 Inches In Diameter!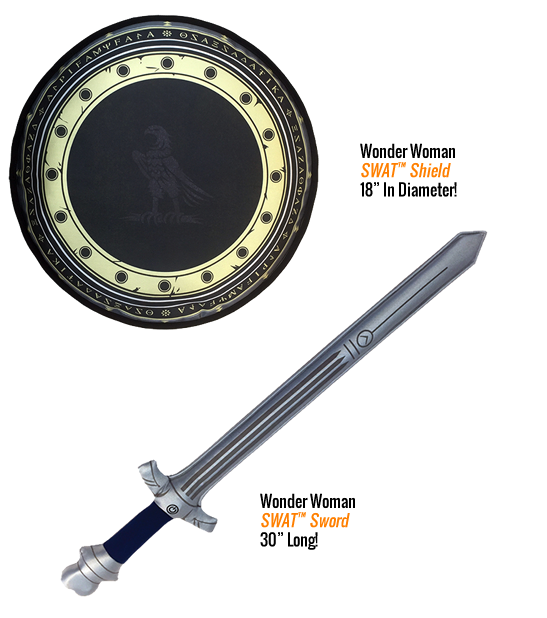 Each BvS SWAT™ features a series of sounds created specifically for each piece. When activated, the Batarang "swooshes" through the air. The clashing of Wonder Woman's Sword and Shield can be heard once each collides with an object.
"Batarang's have always been one of the coolest comic-book gadgets ever created," said Tom Vargas, Product Developer of Factory Entertainment's BvS SWAT™ line. "Now, everyone can play with The Caped Crusader's iconic weapon in a friendly and soft manor, but we didn't stop there!" Vargas continued, "Our Wonder Woman SWAT™ Sword and Shield are ready to defend all heroes in training and office warriors! You'll want these fun pieces by your side at all times, regardless of your alter-ego or age!"
Collect them all!
Batman v. Superman: Dawn Of Justice SWAT's™ are available to pre-order now and fans can also visit Factory Entertainment's website for a chance to win a free set from the line.
For more information and to order, visit the following link:
About Factory Entertainment
Factory Entertainment, Inc. is a leading manufacturer and distributor of high-quality licensed toys, collectibles and home goods featuring a wide variety of entertainment properties and pop culture personalities, including Marvel, DC Comics, Game Of Thrones, Outlander, George R.R. Martin, Archer, Adventure Time, Teenage Mutant Ninja Turtles, Stan Lee, Men in Black, Ghostbusters, Universal Monsters, Jurassic World, Back to the Future, Jaws, Friday the 13th, Nightmare On Elm Street, Goonies, Temple Run and many others. For all the latest product information, please visit www.factoryent.com.
No Comments »
ARCHIVES
SPONSORS