@ComiXology Announces "Comic Book All Stars" Collectible Trading Cards for San Diego Comic-Con #SDCC
Comic-Con International San Diego, CA
 July 20th – 24th
Booth #2547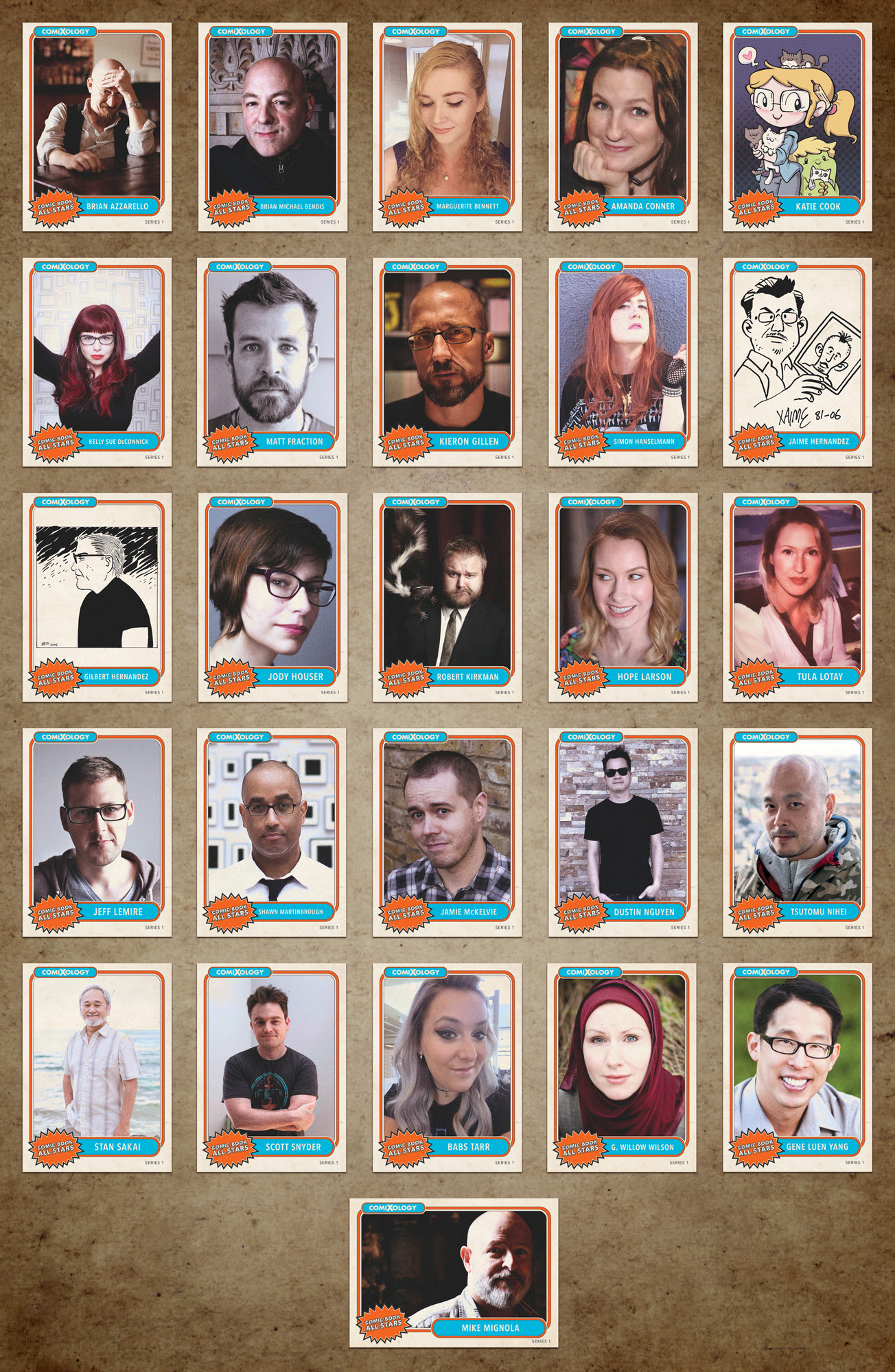 July 7, 2016 – New York, NY – ComiXology, Amazon's premier digital comic shopping & reading platform, announced today its exclusive 2016 Comic Con International promotion giveaway: "Comic Book All Stars" collectible trading cards. Each of the 26 cards will spotlight a photo or self-portrait by fan-favorite comic book creators like The Walking Dead creator Robert Kirkman, Love & Rockets cartoonists Gilbert and Jaime Hernandez, acclaimed Ms. Marvel writer G. Willow Wilson, and the national ambassador for young people's literature, cartoonist Gene Yang. Each card includes a redemption code for a free title on comixology.com that has been handpicked by the spotlighted creator.
"These collectible trading cards are a fun way to pay tribute to the amazing writers and artists whose creativity inspires and excites us all," said comiXology Co-founder and CEO, David Steinberger. "Whether you love superheroes, indies, graphic novels, all-ages adventures, manga, or all of the above like me, there's never been a better time to discover new comics – and fall in love with the creators."
The "Comic Book All Stars" collectible trading card set features the following creators:
Brian Azzarello, writer: American Monster (AfterShock Comics)
Brian Michael Bendis, writer: Powers (Marvel Comics)
Marguerite Bennett, writer: Insexts (AfterShock Comics)
Amanda Conner, artist: Painkiller Jane (PaperFilms)
Katie Cook, writer/artist: My Little Pony (IDW Publishing)
Kelly Sue DeConnick, writer: Bitch Planet (Image Comics)
Matt Fraction, writer: Sex Criminals (Image Comics)
Kieron Gillen, writer: The Wicked + The Divine (Image Comics)
Simon Hanselmann, writer/artist: Megahex (Fantagraphics Books)
Gilbert Hernandez, writer/artist:  Love And Rockets (Fantagraphics Books)
Jaime Hernandez, writer/artist:  Love And Rockets (Fantagraphics Books)
Jody Houser, writer:  Faith (Valiant Entertainment)
Robert Kirkman, writer:  Outcast (Image Comics/Skybound Entertainment)
Hope Larson, writer:  Goldie Vance (BOOM! Studios)
Tula Lotay, artist: Supreme Blue Rose (Image Comics)
Jeff Lemire, writer: Descender (Image Comics)
Shawn Martinbrough, artist:  Thief Of Thieves (Image Comics/Skybound Entertainment)
Jamie McKelvie, artist:  The Wicked + The Divine (Image Comics)
Mike Mignola, writer/artist: Hellboy (Dark Horse Comics)
Dustin Nguyen, artist: Descender (Image Comics)
Tsutomu Nihei, writer/artist: Knights Of Sidonia (Kodansha Comics)
Stan Sakai, writer/artist: Usagi Yojimbo (Dark Horse Comics)
Scott Snyder, writer: Batman (DC Comics)
Babs Tarr, artist: Batgirl (DC Comics)
G. Willow Wilson, writer: Ms. Marvel (Marvel Comics)
Gene Yang, writer/artist: The New Superman (DC Comics)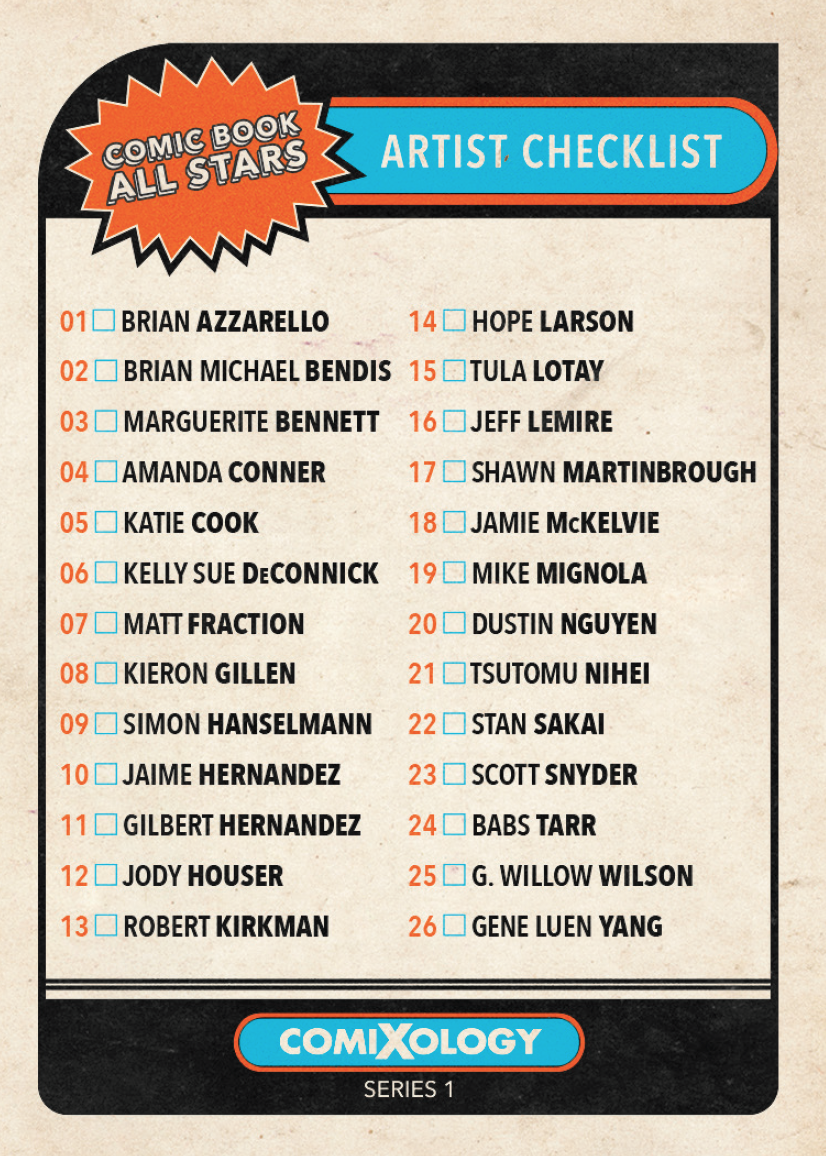 Comic-Con International takes place in San Diego, CA. from July 20th – 24th with comiXology exhibiting at booth #2547. ComiXology will be hosting ten panels this year at the show and during every panel a limited supply of trading cards, as well as Kindle Fire HD devices, will be given out to lucky attendees. The "Comic Book All Stars" collectible trading cards will also be available at designated times during the convention at the comiXology Booth. The company will be announcing creator signings and card drops via social media and its Tumblr closer to the convention.
"We want to make everyone on the planet a comics fan," said Steinberger. "And we like to have fun while doing it. These cards are a fun throwback, and hopefully collectors will discover their next favorite creator while collecting the whole set."
About comiXology
ComiXology, an Amazon.com, Inc. subsidiary (NASDAQ:AMZN), is a revolutionary, cloud-based digital comics platform. With content from over 125 publishers as well as thousands of independent creators from around the world, comiXology provides an unrivaled library of comic books, graphic novels, manga and bandes dessinées. The company's first in class innovations include the exclusive Guided View technology which provides an immersive and cinematic reading experience and a new monthly subscription service. ComiXology is based in New York City, with operations in Seattle, Los Angeles and Paris. For more information visit comixology.com and follow the company on Twitter, Facebook and Tumblr.
No Comments »
ARCHIVES
SPONSORS