My first package arrived this afternoon
. Still waiting on the bigger one! Here's the first round of pics. I do realize that the condition of some of these cards and bubbles is questionable. I bought a "lot" from someone, so i took it all and plan to sort through it, keep the best stuff for myself and sell the others. I am looking to ya'll for guidance and recommendations on what to do as i don't want to get rid of something accidently that would be hard to replace. My current goal is to complete both a MOC U.S. carded and loose set and a Canada small card set. I will also pick up vehicles and other Super Powers paraphernalia as it presents itself. Anyway, on to the good stuff
.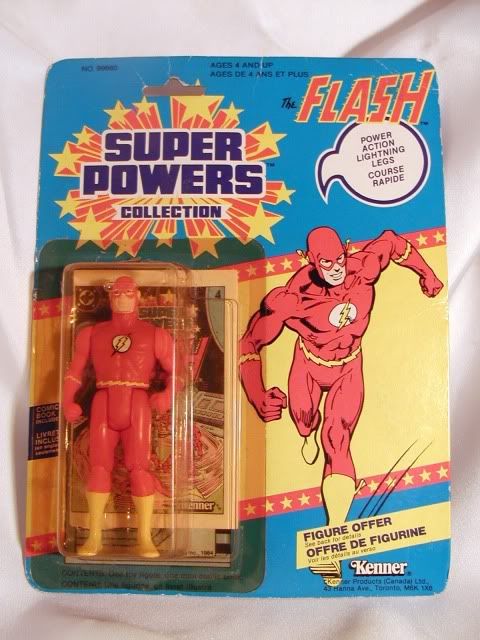 Kenner Canada Flash- As you can see, the card (12-back) is in pretty good shape but the bubble is very yellow and brittle with actual chunks missing on top and the right side
.
Kenner Canada Green Arrow- the 23-back card is unpunched and in pretty decent shape with some light creases. It is a little wavy. The bubble isn't as bad as the one on the Flash, but it is yellowing and has also been crushed in at the top. Is yellowing of the bubble a problem with the Canadian releases?
KENNER U.S. Joker- 23-back card showing quite a bit of wear with deeper creases to the extent that the top corners are actually bent. There is some waving of the card and the obvious tear in the top layer of cardboard above the Joker artwork. Bubble is clear but dented in a little at the top.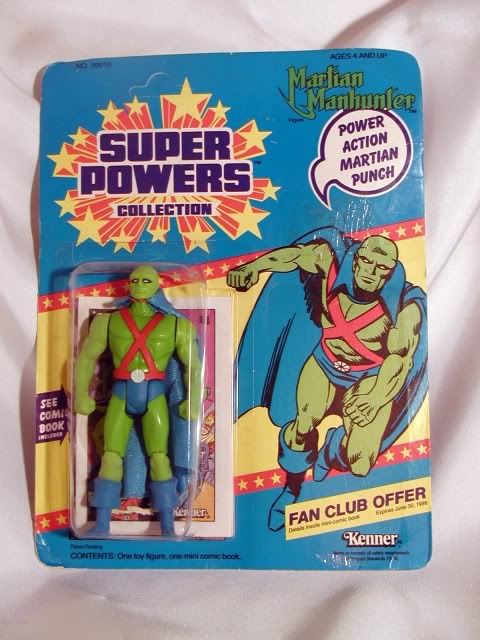 Kenner U.S. Martian Manhunter- unpunched 23-back card showing wear and light creasing. Bubble clear with slightly crushed in top corners. There's also some remains of something sticky being applied to the card at some point, right below the cartoon text bubble. Would display okay, but i would want a better example eventually.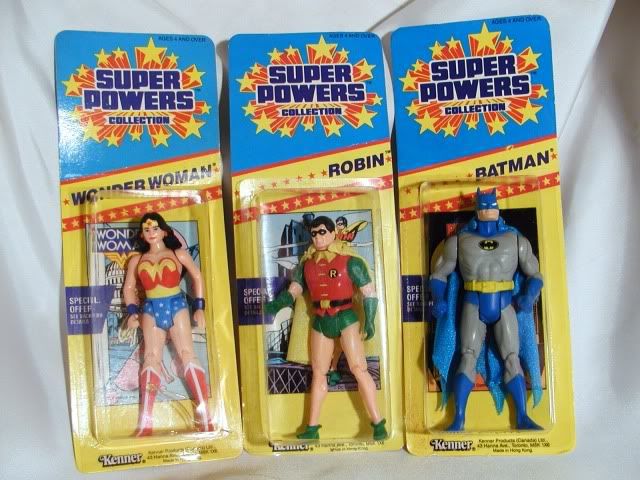 Canada Shell Gas Small Card Wonder Woman, Batman & Robin- now these guys i'm excited about. They are in darn near case fresh condition. Cards are showing a small amount of waving with creasing almost non-existent. Batman's bubble is slightly dented in at the top left corner. The biggest problem with the bubbles is that Robin's has come loose from the card on three sides. The card is still in perfect shape where the bubble pulled away, almost as if there was never any glue. Would you recommend re-glueing it? What's the best kind of glue to use for this?
That's it for now. More to come
. I appreciate any input ya'll can give me. Also, to help get my wife off my back
.... could you give me an idea of what the value of the above examples might be. Just looking for some generalized prices. Thanks.
PART II
Good news, my second box arrived yesterday! Here's the rest of what i picked up.
Kalibak Boulder Bomber- this vehicle is in really good shape and came witht the stickers still on the sheet (forget to include in pic). The only thing i can tell is missing is one of the red spears for the other side. I think i have a line on one already though.
Lex-Soar 7- In really good shape with stickers still on the sheet, instructions and all the accessories it appears.
Supermobile- In good shape with stickers applied. I think it's all here, let me know if you see anything missing. What are those little red "thingies" underneath? Looks like in other pictures i've seen they are used to pick up bad guys. Is there an accessory that goes to them?
Batmobile- this one i was a little bummed about. Three of the four windshields are cracked. One had a chunk missing, but i have reglued it already. It is definitley in played with condition. I may look at replacing it at a later date. Meanwhile, it did make a pretty decent picture
.
Firestorm w/comic
Kalibak w/comic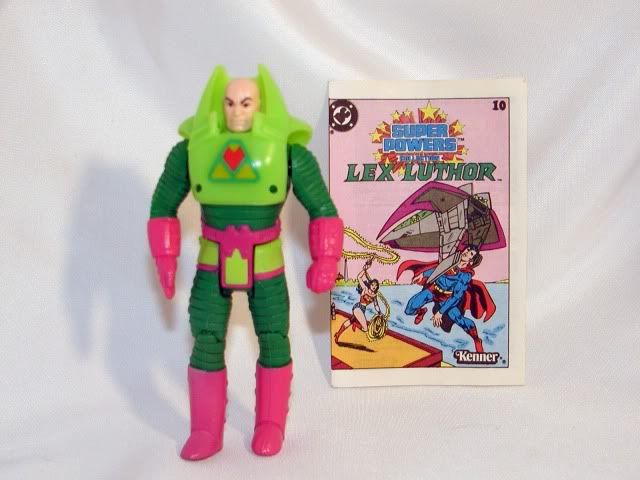 Lex Luthor w/comic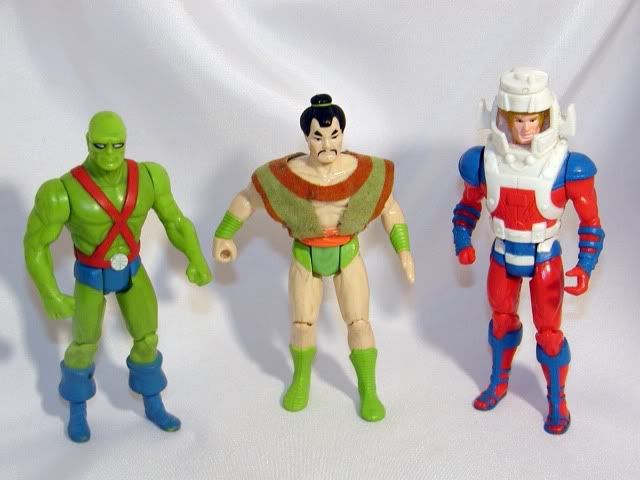 Martian Manhunter, Samurai, Orion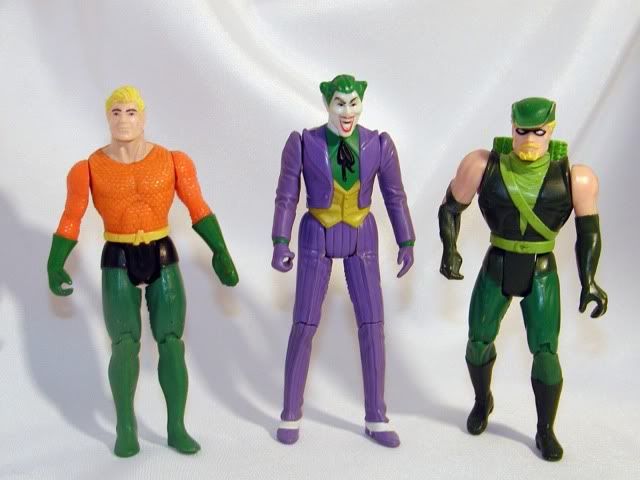 Aquaman, Joker, Green Arrow
Batman, Flash, Green Lantern
Darkseid, Parademon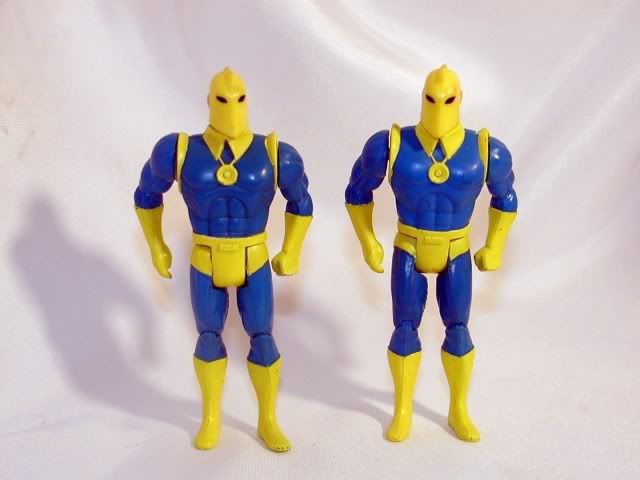 Dr. Fate x2
Kenner's Swamp Thing- Snare Arm Swamp Thing, Antone Arcane
Toy Biz DC Comics Super Heroes- Superman (in really good condition), Wonder Woman, Mr. Freeze, Penguin w/umbrella, Lex Luthor w/briefcase, Riddler, Robin
And lastly, the not so good- Mantis, Desaad, lets call the next two Black Lantern customs
, Green Lantern, Brainiac
Overall i'm pleased with everything. An exciting start to my collection! As you can see i'm missing some accessories so if anyone can help me locate any of those i'd appreciate it.