Our family is getting ready to sell our house and move closer to our business here in Denver within the next few months, so I'm starting to pack up the toys and it occured to me that I haven't posted pics of "The Room" anywhere in a long while, so...
(Please bear with some of the pre-packing mess)
Top Shelf
- Super Powers, JLU, Alex Ross Justice, various DC statues & figures
Middle Shelf
- DC Direct
Bottom Shelf
- Marvel Legends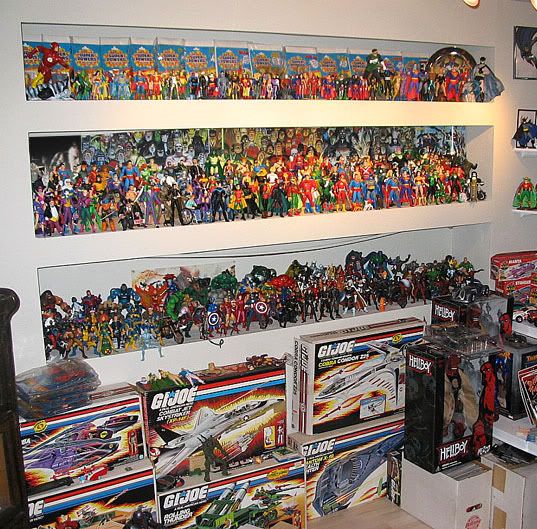 Wide shot of the room; in the corner - DC Direct First Appearance, JLU 10" figures, various crap, G.I.Joe USS Flagg deck stacked up behind the M.A.S.K. shelf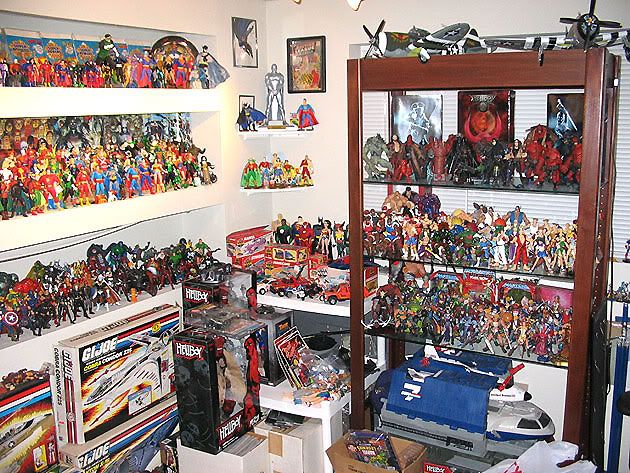 Top Shelf
- Hellboy movie & comic series figures
Middle Shelf 1
- SOTA Street Fighter
Middle Shelf 2
- Mattel MOTU figures & stactions
Bottom Shelf
- G.I.Joe Defiant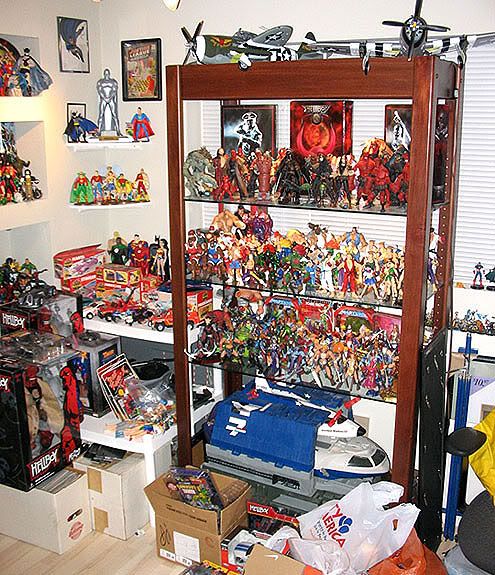 The Joe Wall - the first two shelves are the vintage and new Joe figures; most of the vehicles are packed away due to space limitations but many of my favorites are on display. This is the setup that makes my wife's friends question our marriage.
The Joe Case - many of my MOC Joes are in there or on the wall. As you can see, I'm a huge fan of the original figures' card artwork. My Terror Drome is buried in the closet, along with my dignity.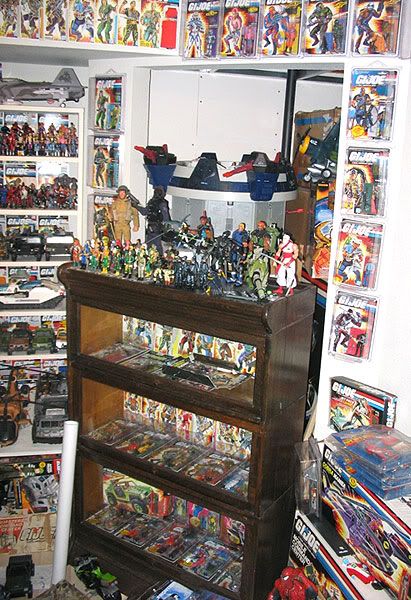 Finally, in the Creative Corner is my cluttered work desk, surrounded by many Heroclix and Figure Factory. On the right is my fav cover artwork, Justice League of merica #21, I created it using enlarged color copies all glued together. It's neat. Above the desk is my Perez Avengers poster, the version that was signed and printed on parchment paper. An ex-girlfriend had it really nicely matted and framed a long while back. Best thing I remember about the relationship.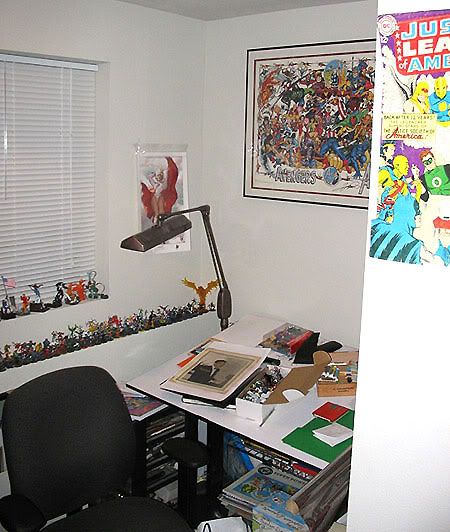 So there it is. Hope you guys like it. I'm a bit bummed, because our new house will have an unfinished basement, and we financially won't be able to finish it for a long while so I won't have a place to set all this back up. The "dolls" will have to stay packed away for quite some time. But at least I'm blessed enough to have all this!