Getting back to the toys in question, this thread motivated me to stop by Big Lots and see if my local store had the Power Team Elite S.W.A.T. sets in stock. They had plenty of them, so I got two of each "building" set for $3.50 each. I've had them for a few weeks, but I finally got around to taking photos of everything recently. I thought some of you other 3¾" nuts might be interested.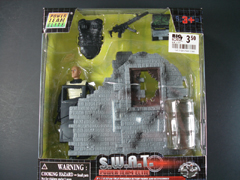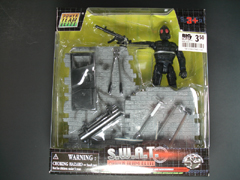 Bad news first: the figures.
Have a look at the construction. Instead of a modern elbow swivel, you get '80s-style
swivel-arm battle grip!
Joy. There's no ankle swivel, either. There's just an ugly pin that allows up and down movement of the foot. A big chunk of the inner thigh is missing to accommodate the shoddy design's hip articulation, as well.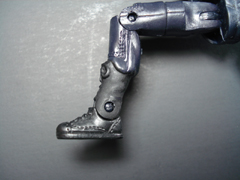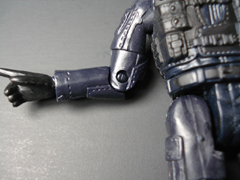 But maybe you can remove the heads to do
something
, yes? Maybe get
some
kind of use out of these things, right? Wrong. They just snap.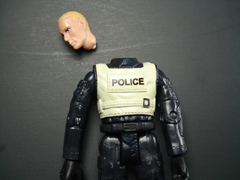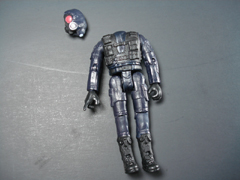 So into the garbage these four figures went.
Now for the good news: the accessories.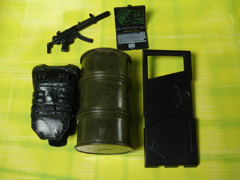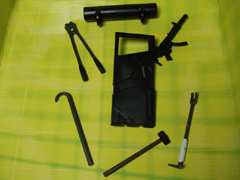 You get several accessories in each pack. I already had some of these from previous purchases and orders from the
Marauder "Gun Runners"
Diorama Accessories
section (the
sandbags
and
lockers
are among my personal favorites from M&C Toys). I did get some items that were new to my collection, though, like the crowbar, battering ram, riot shields, and sledgehammer. What really makes the sets worth buying, however, are the "brick wall" diorama pieces. For fifteen bucks plus tax, I was able to get an instant mini-diorama. The parts fit together and hold surprisingly well, and you can arrange them however you want. The left side of any wall will fit into the right side of any other. These will work with any 3¾" line like Marvel Universe, DC Universe Infinite Heroes, or the brilliant G.I. JOE: Pursuit of Cobra. Have a look!