This is an overview of most of the different set ups I have. I'm still preparing close up pics of each. There are lots of customs around too.
First, part of the room shot. I've got 4 large file cabinets in the room now for my comic collection (about 8,000 comics). They make it a bit tough to stand up figures since when I close the drawers, the shelves shake. Eventually I'd love to do custom shelving, but that wasn't in the cards yet.
Let's remember that this is just one wall in this room.
Astonishing X-Men
Background from Niubniubsuniverse.com. Photoshopped it to be lighter. Not too happy with the positioning. Will try some more variety here.
Inhumans
Most of the customs were done by Victor Kraven. Not sure about Lockjaw.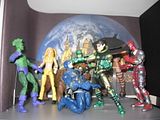 Mighty Avengers vs. Ultrons
I love when a team line up works out. I threw in Giant-Man cause I really wanted a Pym in any Ultron battle. Iron Patriot is just standing there cause at this point, I don't know what set up he fits in. Maybe he's really behind this Ultron attack?
Avengers vs. Thanos
Mentor and Starfox customs are by Kraven. Moondragon is by Stef. Scarlet Witch seemed to have gotten a bit cut out of the picture.
Asgard
I had a slew of Asgardians done by Fraser Thomson. Thor and Loki are going to by flying above everyone. And I'll likely elevate Sultur (forget who did his custom). I'm also waiting for my Enchatress and Ulik to finish this out. Also not positive if I'll put Beta Ray Bill with my space figures or in Asgard.
Note, Galadriel figure is my stand in for Kelda.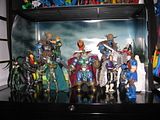 Avengers vs. Masters of Evil
I'm incredibly proud I managed to put the full Roger Stern Avengers team (from Under Siege). This display is inspired by that (down to Hercules getting beaten by the Wrecking Crew). The Masters of Evil is however, not completely authentic.
90s X-Men Versus Sentinels
Waiting for my custom 90s Jean Grey. X-Man is also there, but not sure where I really want him. I have this unfortunately column in the room that makes this set up a bit awkward.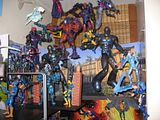 JLA versus Darkseid
Another awkward column shot. The whole set up curves around.
Crisis on Infinite Earths
Superman keeps falling over with Supergirl. So trying to find a way to avoid that.
Dr. Strange
Mystical Marvel. The borders are done with formboard and the background is right from classic Ditko.
Secret Avengers vs. Count Nefaria
Display is from the fold out Batman Batcave. I broke it apart and used each background for something different.
JLA vs. Legion of Doom
Still have several flying figures to put in the set up.
Dark Phoenix
Buffy Library put to work. Don't know who did the custom Thunderbird.
Kree/Skrull War
This is actually on the other side of the room. Using the iGear Transformers Computer Command Center as my starship. Love how I got the Thing posed.
The opposite wall houses my space figures. There's the Green Lantern/Sinestro Corp War (yes that is a custom Mogo) and Cosmic Marvel. I still have to put up all my Blackest Night figures, which will look like they're encroaching on the Green Lantern War. Then there's a kinda classic/silver agey space JLA vs. Braniac battle under the cosmic Marvel.