I found these on the way home. I picked up Fred and Dino. Rosie isn't worth anything to be without any of The Jetsons. On the card back they list, The Jetsons (but does that just mean Rosie in this first wave, others later?), The Flintstones (Fred & Dino, so far), Captain Caveman, Secret Squirrel & Morocco Mole, Tom & Jerry and Yogi Bear. Now that I have a couple in-hand... eh.
My initial issues started before I purchased him. Paint apps on Fred are sloppy in the face, so hope you have plenty to choose from. Dinos fared better than Fred and I didn't really look at Rosie. Fred also has a big swivel cut through his lower abdomen, exaggerated greater because it cuts through a couple of the black triangles on his outfit. It's nitpicky, but greater effort in the design could have made a noticeable joint a little less noticeable. Heck, they could have left it out since I suspect most won't use it since it looks odd when the triangles are separated and it doesn't add that much to the figures articulation. At least the cut goes below the tie, so that stays in place.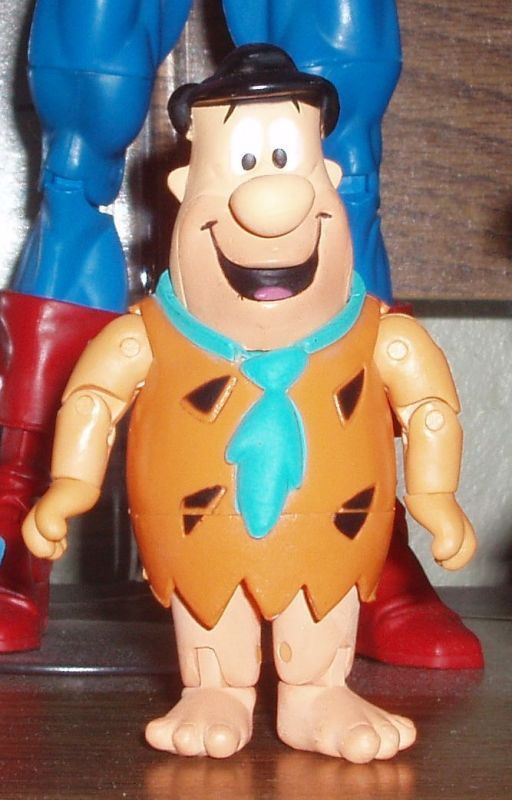 Sticking with Fred, I think the overall sculpt is fine. If Jazwares likes variants, they could have made a mouth closed version, but this version is definitely Fred. The articulation is interesting. Besides the cut "waist", he has:
- Cut neck joint that is extremely limited. BTW, the head pulls off
very
easily and cleanly off a thick post;
- Pin & Disc shoulders, fully rotational;
- Single elbows that do a good job within the sculpt;
- Cut wrists. I wonder if something is wrong with mine's left arm because the wrist lines up and looks better turned backwards than normal. I am starting to think that I have two right forearms. I will check omorrow since I will be out that way again;
- Cut joints at the top of Fred's legs;
- Pin ankles
Some of the joints were tight, like the top of the legs, but once you get them all moving, there is plenty of articulation here, especially for a Hanna-Barbera character.
Fred comes with one accessory -- his Water Buffalo Hat. I am embarrased to say that I am not sure how accurate it is; it is brown and I always remember the hat being blue. Did the Water Buffaloes ever wear brown hats? It doesn't matter because Fred looks terrible wearing it. Fred has a hole in the top of his head that the peg in the hat slides into. Unfortunately, it doesn't slide in enough, due to a combination of the grid inside the hat and the head sculpt and the hat just sort of... hovers over his head. From certain angles, I guess it works. From (most) others, it looks really silly.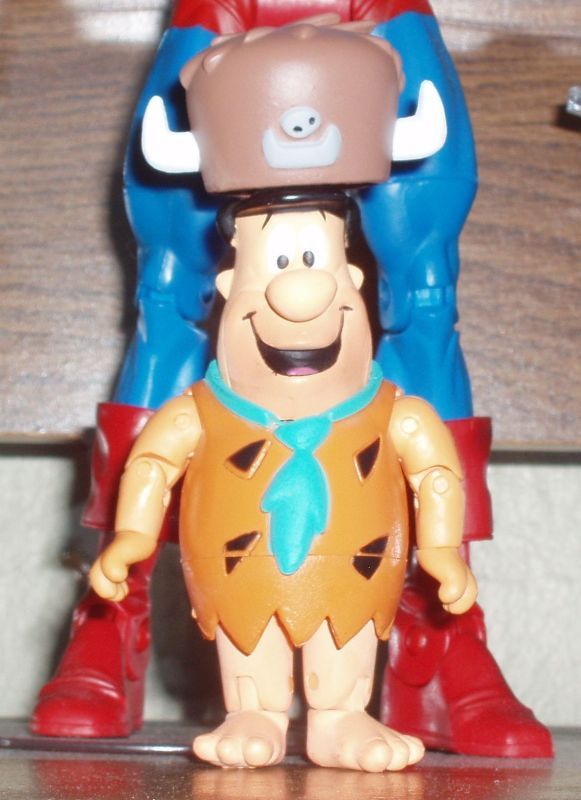 Overall, I am both disappointed and happy. I am disappointed because I don't think it would have taken much to make Fred really, really good. Take away that cut waist and I think the sculpt with articulation works nicely. And the cut is just so unnecessary. I don't know what's up with the wrists yet, but if mine is fine, it's an odd design on the left wrist. The hat thing just didn't work.
The good begins with the scale; the size is great:
Charlie Brown size would have been nice, but The Peanuts at Fred size would have been great too. He has just the right amount of articulation. No, he will never be able to sit in his car... or anywhere! But his basic design doesn't really allow for it without that animated magic. I love the sculpt and he looks right from every angle. If you can find one with good paint apps, $6.99 is well worth it for me to get a good Fred Flintstone figure. I just need the rest of them -- Wilma (w/ Pebbles), Barney, Betty (w/ Bam Bam). If they toss in Mr. Slate and Hoppy, I'll get them too. Gazoo too!
I don't know if I will do the other H-B properties, although The Jetsons will tempt me the most. Quality will have a say in it too; if I didn't find this one Fred, I probably would not have bought any. And there is still the wrist issue to resolve.