Sat 18 Apr 2009
So it's been 25 years since Marvel Comic's Secret Wars Limited Series debuted.
For those who don't know what that is, you really need to know only 3 things about it:
1) it was the first time a company put all of it's major characters together in a company wide crossover that affected all storylines.
2) it was created because Mattel wanted a good "hook" to tie a toy line into, that used all the characters since Marvel had no current movies or TV shows on the air.
3) it really sucked.
Yeah, it was pretty bad. The art was rushed, the writing was abysmal, and the characters behaved very out of character. But, it did give us Spidey's black costume (and therefore, also Venom) and a short-lived, yet beloved, toy line. And this year there have been tons of Secret Wars related articles, events, and merchandise. This is amazing because the series has pretty much been left alone since seeing publication back in 1984 (the less said about Secret Wars II, the better).
So what kind of things are out? Well, for starters, the new Secret Wars Omnibus is out, with an in-depth history of the toy line special feature by yours truly, with a photographic assist by our very own General Zod. Then you have the amazingly cool Hasbro Marvel Universe Secret Wars 2-Packs. So far we know that the first six are going to be Spider-Man & Thunderball, Wolverine & Human Torch, Captain America & Claw, Black Costume Spider-Man/Magneto, Iron Man/Spider-Woman, Hulk/Cyclops. Supposedly all of them will be out by the end of 2009. The Captain America and Wolverine are resculpted from the main line, so we can only hope that the other repeats like Hulk will be similarily streamlined.

There are homages with smaller lines, too, such as the Monogram Miniature Alliance Secret Wars 2-Pack, and the new Minimates first ever Fan's Choice poll. And our very own Man of Action Chip Cataldo has been blogging about the crazy unseen SW bootlegs out of South America.As an added bonus, here's a pic I recently found of my very first custom figures that I made back in 1990, which happened to be Secret Wars figure based (and a few Star Wars/ Indiana Jones efforts to extend the original line from 1985!) Note that I repainted Wolverine, but not shown are the black claws I painted silver. Oy.
And of course, we can't forget our pals at the late, lamented Geek Week, who were ahead of the curve on this one: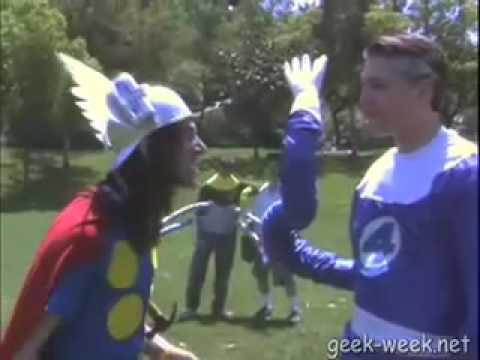 15 Comments »
echo "" ?>